Selective amnesia: Croatia's Holocaust deniers
The EU's newest member state has done little to crack down on voices downplaying World War II atrocities.
11 January 2018
Originally published
24 November 2017
The mugshots show Ivo Goldstein, a Jewish librarian and book dealer, looking bright-eyed and calm – even after nine days of confinement in a Croatian police cell. One of the prints bears the number 28888 and a date: April 21, 1941.

Seventy-six years after they were taken by a police photographer, the photos hang as a triptych on the bedroom wall of Goldstein's son, Daniel, in a drab apartment block in Zagreb's Zaprudje neighbourhood. Daniel, 85, is a historian and human rights activist. He was nine when his childhood was shattered by his father's arrest in the newly created Independent State of Croatia, NDH, during World War II. This puppet state of Nazi Germany and Fascist Italy was set up after the invasion of the Kingdom of Yugoslavia by Axis powers in the spring of 1941. It was led by ultranationalist dictator Ante Pavelic, whose fascist Ustasa movement had sought a Croatian state by any means.

Modelled largely on the German SS, Ustasa units wasted no time in implementing Nazi-style racial laws, rounding up and killing Jews, Serbs and Roma along with anti-fascists. The Ustasa built concentration camps across the NDH, which spanned most of modern-day Croatia and Bosnia and Herzegovina along with parts of Serbia and Slovenia.

Ivo Goldstein was one of the first Jews to be arrested, in the industrial city of Karlovac. He ended up at the Jadovno camp in the foothills of the Velebit mountain range near the Adriatic. Records show he was killed there, four months after his arrest, at the age of 41. After the war, Daniel changed his surname to Ivin (son of Ivo) in memory of his father. He says he would have been killed too if he had not joined — at the age of 10 — the anti-fascist Partisan movement led by Croatian-born communist Josip Broz Tito, who would rule Yugoslavia for 35 years after the war. "Shortly after I joined the Partisans, my close relatives were killed in the NDH camps, including my grandparents who had been looking after me until then," he said. "My uncle, who was killed in Auschwitz, didn't manage to save himself either."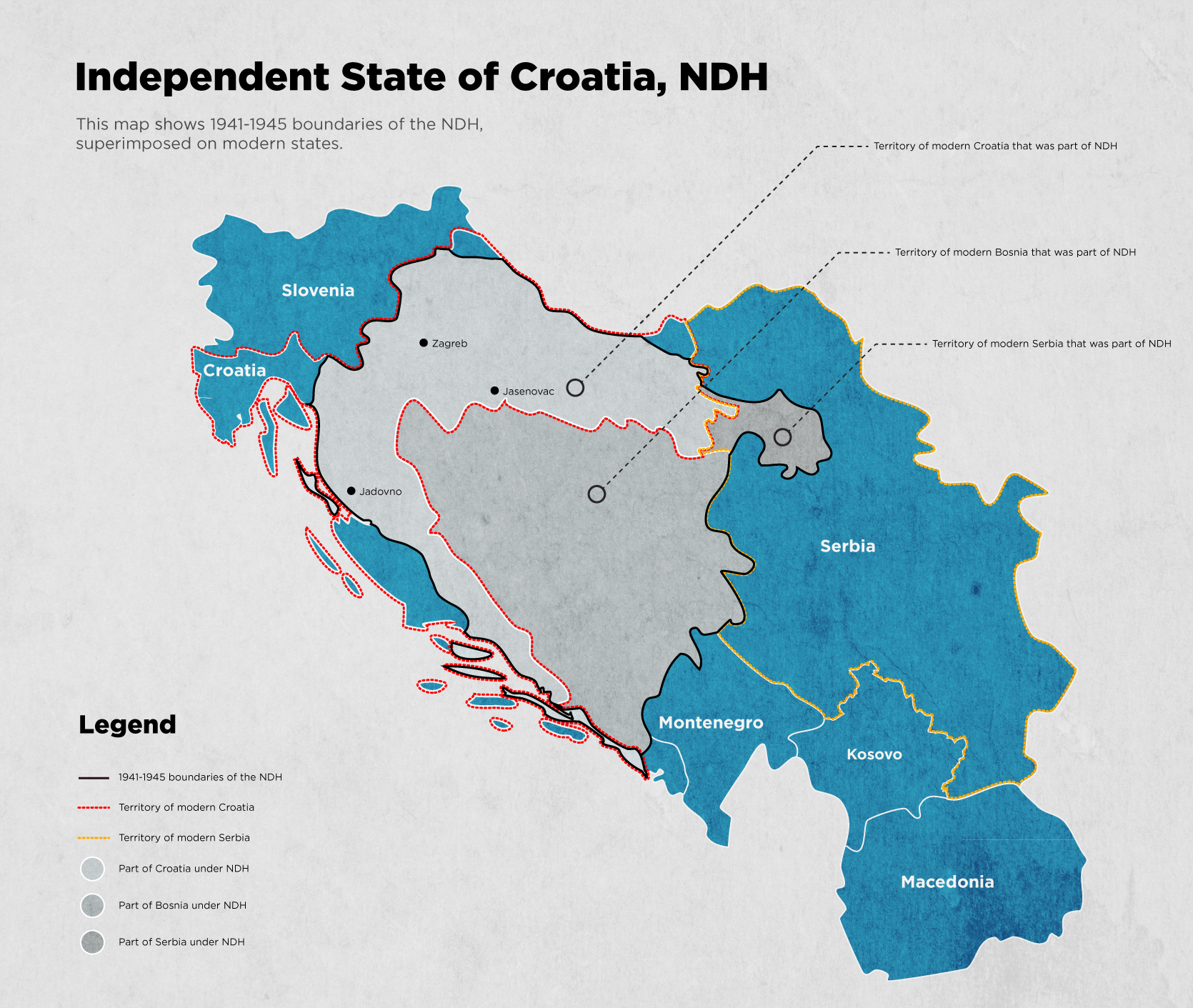 Given his life story, it is no surprise that Ivin is angry about a growing number of voices in Croatia seeking to whitewash Ustasa crimes during World War II. Those crimes include the murder of tens of thousands of Serbs, Jews and Roma at the notorious Jasenovac concentration camp, often referred to as the Auschwitz of the Balkans.

In a political climate that has lurched to the right since Croatia became the EU's newest member in 2013, Ustasa apologists openly express their views on social media, in lecture halls and on prime-time television. Bookstores stock monographs disputing overwhelming evidence that Jasenovac was an Ustasa extermination camp. Prominent politicians have cast doubt on the genocidal nature of Pavelic's regime. Critics say such revisionism is tantamount to Holocaust denial.

"Denying that Jasenovac was a death camp makes me feel so bitter," Ivin said. "I consider revisionists who claim that kind of thing to be criminals because they are killing victims for the second time with their lies. I don't know how the government can allow it."
Rights activists say successive governments led by the conservative Croatian Democratic Union party, HDZ, have turned a blind eye to neo-fascist nostalgia, allowing hate speech to thrive. Meanwhile, they accuse state institutions of failing to enforce legislation prohibiting public denial, belittlement or condoning of genocide crimes that was introduced in the run-up to Croatia's EU accession in 2013.
"They are killing victims for the second time with their lies"
Efraim Zuroff, who has spent more than 40 years hunting Nazis for the Simon Wiesenthal Center, describes Croatia as a country that has gone from being one of the cradles of the Holocaust to a "cradle of Holocaust distortion". He groups Croatia alongside some Eastern European states that he says have selective amnesia about the wartime records of collaborators, quislings and local anti-Semites, including Estonia, Latvia, Lithuania, Ukraine, Hungary and to some extent Poland (see box).

"What is specific to these countries is that they would like to turn former fighters for independence and against communism into national heroes," Zuroff said in a phone interview from his office at the anti-fascist organisation in Jerusalem. "In some cases, these are persons responsible for killing Jewish citizens during the Holocaust, which should suffice to disqualify them."
Counting the dead

Nobody knows how many Serbs were killed by Ustasa units during four years of slaughter that historians say surprised even Pavelic's Nazi backers in Germany. The US Holocaust Memorial Museum puts the number between 320,000 and 340,000, an estimate that includes Partisan and Serb royalist fighters. In the 1980s, demographer Vladimir Zerjavic estimated that 197,000 of the dead were civilians.

The extermination of Jews is well documented. Some 30,500 of 39,000 Jews living in NDH territory were murdered by the Ustasa or sent to Nazi death camps elsewhere in Europe. Many survivors moved to Israel after the war. Croatia's Jewish community now numbers a little over 500, according to the latest census in 2011.

At Jasenovac in central Croatia, the Ustasa did their killing with knives and hammers in a complex of sub-camps near today's Bosnian border. Painstaking and scientifically verified research by the Jasenovac Memorial Site has established the identities of 83,145 victims, though a final death count has yet to be established. The research shows 47,627 Serbs, 16,173 Roma and 13,116 Jews perished at Jasenovac during the war, along with several thousand dissident Croats and people of other nationalities. Of those, 20,101 were children.

For the past two years, representatives of Serbian and Jewish communities along with anti-fascist organisations have boycotted state commemoration services for Jasenovac victims in protest at what they see as government leniency towards Ustasa sympathisers. They were particularly incensed by the installation, last November, of a plaque near Jasenovac by veterans of Croatia's 1991-1995 conflict that was emblazoned with the words "Za dom spremni" ("For homeland ready"), the Ustasa equivalent of the Nazi salute "Sieg Heil". President Kolinda Grabar Kitarovic has downplayed the use of the slogan, calling it an "old Croatian salute" – a description challenged by mainstream historians who say it was an Ustasa invention.
After months of criticism for allowing the plaque to stay in Jasenovac, the government moved it to the nearby town of Novska in September. Many saw the response as too little, too late. "When fascist events start happening in a society, this brings about a sense of uneasiness among Jews," said Sanja Zoricic Tabakovic, a judge and representative of the Jewish community in Zagreb. "But when institutions don't react, this causes fear because you don't know where that really can lead us.

The latest annual report by Croatia's independent ombudsman, published in May, cites a rise in hate speech and Holocaust distortion. "There are more and more media propagating and spreading prejudices and stereotypes, publishing texts that incite hatred against minorities, rehabilitating the Ustasa regime and diminishing or denying crimes committed in World War II," the report says.
Among the more vocal of the revisionists is the Society for Research of the Threefold Jasenovac Camp, a non-governmental organisation whose members include journalists, teachers, university professors and Catholic priests. The society champions a theory that Jasenovac was merely a labour camp under Ustasa rule and that it only became a death camp when it was taken over by Tito's Partisans after the war. The theory flies in the face of countless official documents, testimonies and studies by Holocaust experts and world-renowned historians.

Natasa Matausic, a historian and president of the board of directors of the Jasenovac Memorial Site, said there was no evidence that Yugoslav communists ran a concentration camp at Jasenovac after the war. "They [members of the society] are using documents from the state archives, the same ones we have used for years, and interpret them any way that suits them," she said. "For example, the fact that a person died in Jasenovac camp in 1943 and was declared dead in 1946, they use as evidence that the person was killed in 1946." Igor Vukic, the society's secretary, defended the theory. "We say this is what we've found, and we haven't really concealed anything that doesn't support our claims," he said.
Dealing with the past

Last December, the government said it would create a special council of experts tasked with making recommendations "aimed at dealing with the past" – a response to the controversy surrounding the veterans' plaque at Jasenovac.

Vukic said the Society for Research of the Threefold Jasenovac Camp asked the government to be part of the council, mandated to consider such matters as how history should be taught in schools and anniversaries commemorated. According to Vukic, the proposal had the support of Bozo Petrov, then parliamentary speaker and president of a junior party in the coalition government of the day. Vukic said "friends from the country, Europe and the world" had sent messages backing the society's participation to Petrov, whose Bridge of the Independent Lists, MOST, billed itself as a non-ideological party in Croatia's polarised politics.

In mid-February, a fortnight before the council was officially set up, Petrov wrote to Prime Minister Andrej Plenkovic forwarding the messages of support. "I am using this opportunity to deliver to you proposals that representatives of the Society for Research of the Threefold Jasenovac Camp should be included in the work of the council," he wrote in a letter seen by the Balkan Investigative Reporting Network, BIRN. BIRN did not see the forwarded proposals or have information on whom they were from. Petrov declined an interview request, but MOST spokeswoman Ruzica Popovic said the fact that he forwarded the messages did not mean he endorsed them. "They [the office of the speaker of parliament] forward all received proposals," she said. In the end, the government turned down the society's request to be part of the council.
"What they really do is a denial of genocide and the Holocaust that took place in the NDH"
Matausic from the Jasenovac Memorial Site believes the Society for Research of the Threefold Jasenovac Camp should be banned. "What they really do is a denial of genocide and the Holocaust that took place in the NDH," she said.

Asked if the society engaged in such denial, Vukic said: "When it's about genocide, it is often linked to Serbs. If it's about that, we do deny it. " He continued: "Of course we don't deny the Holocaust… When it comes to Jewish people, nobody who is serious, nobody who is smart can deny or fail to be compassionate about that."
But examination of the Facebook profile of the society's president, a Catholic priest named Stjepan Razum who works at the Croatian state archives, revealed several videos of prominent Holocaust deniers accompanied by his approving comments.

On May 17, Razum shared a video of Richard Williamson, a British Catholic bishop convicted of Holocaust denial by a German court in 2013, in which Williamson says: "I believe that the historical evidence is hugely against six million Jews having been deliberately gassed in gas chambers as a deliberate policy of Adolf Hitler."

Above the video, Razum commented: "Courageous man! Congratulations!"
Razum declined a telephone interview request but agreed to answer questions by email. Asked about Williamson's views, Razum wrote: "I thank God that I am living in the Republic of Croatia, which is a free and democratic state and the benefits of this are that we are free to think, free to speak, free to use FB [Facebook], free to comment, free to research, free to be involved in scientific work, free to travel, free to wonder, free to congratulate…"
Pogroms in Poland
Holocaust denial has been illegal since 1998 in Poland, where Nazi occupiers killed millions of European Jews during World War II in death camps built as part of Germany's "Final Solution". Polish anti-fascist fighters formed one of Europe's largest resistance movements and many Christian Poles helped rescue Jews from extermination.

But historians say pogroms by local anti-Semites show that some Poles at least were willing collaborators in crimes against Jews. Critics of the ruling Law and Justice Party, PiS, say the government has gone too far in pandering to nationalism by whitewashing Polish complicity in World War II crimes and cracking down on suggestions of Polish guilt. In August 2016, the government introduced a bill to criminalise the use of the term "Polish death camps" instead of "concentration camps in occupied Poland". If passed, the law could send offenders to jail for up to three years.

Meanwhile, Education Minister Anna Zalewska came under fire last summer for appearing to question in a television interview Polish involvement in two well-known massacres: the burning of at least 340 Jews in a barn in Jedwabne in 1941 and the murder of 42 Holocaust survivors in Kielce in 1946. "What she said is stupid," said Bogdan Bialek, organiser of annual commemoration in the south-central city of Kielce. "It would be better to deal with something useful."

At the 71st anniversary of the pogrom in July, young people wrote the names of victims on chalk outside the house in Kielce where Jews were bludgeoned to death. According to Polish anti-fascist organisation Never Again, hate crimes and instances of hate speech — including the use of fascist symbols and instances of anti-Semitism by extremist groups — have soared since the start of Europe's refugee and migrant crisis in 2015.

According to Never Again activist Maciej Kaluza, PiS sought to ride a wave of xenophobic sentiment during parliamentary elections that year and has continued to seek political capital from intolerance. "PiS doesn't officially support far-right organisations, but at the same time it doesn't do anything to stop them," Kaluza said. PiS did not respond to emailed questions.
Prominent revisionists

Rights activists say distortion of World War II crimes is nothing new in Croatia. It was especially prevalent during the Balkans conflict of the early 1990s when anti-Serb sentiment was high and Croatia was forging its identity as an independent nation.

Franjo Tudjman, Croatia's first democratically elected president, wrote in a 1989 book titled Wastelands – Historical Truth that the estimate of six million Jews killed in the Holocaust was based on "overly emotional and biased testimonies and on one-sided data in post-war calculations of war crimes and in settling scores with the defeated perpetrators of war crimes".

Tudjman, who founded the HDZ, wrote elsewhere: "A Jew is still a Jew, even in Jasenovac camp. In the camp they retained their bad characteristics that were more visible there. Selfishness, slyness, unreliability, stinginess, perfidy and confidentiality are their main characteristics."

Political scientists say Tudjman was the first politician to try to find equivalence between fascist crimes and those committed by communists, including the killing of Ustasa and NDH prisoners and civilians by Yugoslav Partisan forces right after the war.

These efforts were partly a reaction to decades of Yugoslav historiography in which the number of Jasenovac victims was put at around 700,000, they say.

While Croatian nationalists sought to downplay the numbers in the late 1980s and 1990s, Serbian nationalists blew them out of proportion in a bid to label Croats as genocidal.

Vuk Draskovic, leader of the Serbian Renewal Movement party, wrote in 1985 that a million-and-a-half Serbs were killed in the NDH.

In recent years, prominent Croatian revisionists have included HDZ lawmaker Vice Vukojevic, who sat on a now-defunct commission that put the Jasenovac death toll at 2,238, and Zlatko Hasanbegovic, a culture minister who described the end of the NDH in 1945 as "our biggest national tragedy and defeat".

President Grabar Kitarovic has formally condemned the Ustasa as a criminal regime and expressed her "deepest regrets to all the victims of the Holocaust in Croatia" during a trip to Israel.

But she has also come under fire for being photographed with a flag bearing an Ustasa symbol and for listing her favourite musician as Thompson, an incendiary soldier-turned-singer whose lyrics contain the "Za dom spremni" slogan.

Meanwhile, Stjepan Mesic, who served as Croatia's second president and was known for his liberal views, this year resigned as honorary head of the Alliance of Anti-Fascist Fighters and Anti-Fascists after videos from 1992 emerged of him questioning if Jasenovac was a death camp.

"People were killed, but [only] before coming to Jasenovac," he says in one video. "When someone came to Jasenovac, he was already practically saved, as a worker."
No prosecutions

Lawyers say the question of whether public statements like these could be considered illegal boils down to interpretation of the criminal code. Unlike in other EU countries such as Germany or Austria, the law makes no specific reference to the Holocaust or World War II-era crimes.
Collaborators in Serbia
Most of the territory of today's Serbia was occupied by Nazi Germany between 1941 and 1945, but the country had no shortage of collaborators, historians say.

Belgrade's higher court is deliberating on the possible posthumous rehabilitation of Milan Nedic, leader of Serbia's Nazi-backed regime between August 1941 and October 1944. According to the US State Department's 2016 international religious freedom report, Nedic's government was responsible for killing 90 per cent of Serbia's Jewish population during the Holocaust. The Nazis installed Nedic as leader of the so-called Government of National Salvation. He fled to Austria after the war and Yugoslav Communist authorities declared him a war criminal before his death in 1946.

The process for his rehabilitation, initiated by Nedic's descendants, has divided opinion in Serbia, which is in negotiations to join the European Union. Outside court hearings, anti-fascist protesters have faced off with supporters dressed in black who claim he gave refuge to 600,000 Serbs from across the Balkan region.

"To rehabilitate a Nazi regime, one would have to be a Nazi – and Nedic was not one of them," said Aleksandar Nedic, great-nephew of the wartime leader and a self-styled Serb nationalist. Sitting on a bench outside a Socialist-era apartment in Belgrade's Banovo Brdo quarter, he said that whatever the court decides, the hearings provide a counter-narrative to communist-era history that he calls false. "It's like losing weight," he said. "For all the years you add kilos, that's how many it takes to get rid of them. It's the same with historical rehabilitation. For as many years as lies were told, now the truth must be spoken."

But historian Milan Radanovci, author of Punishment and Crime – Forces of Collaboration in Serbia and a strong opponent of rehabilitation for Nedic, said only a minority favoured exculpating the wartime leader. "It's never happened that a European country has legally rehabilitated their quislings," he said. "He was well aware of tens of thousands of Jews, Roma and Serb civilians taken to concentration camps and then executed."

In 2015, a Belgrade court annulled the communist-era conviction of Dragoljub 'Draza' Mihailovic, a Chetnik leader executed in 1946 for high treason and collaborating with the Nazis. During World War II, royalist resistance fighters known as Chetniks openly collaborated with Axis powers as they targeted Bosnian Muslims and Croats along with Communists. In May, the Higher Court in the western town of Valjevo rehabilitated Nikola Kalabic, commander of the notorious Chetnik Mountain Guard Corps accused by post-war Yugoslav authorities of Nazi collaboration and other crimes.
Article 325 of the code says people who "publicly condone, deny or significantly diminish criminal acts of genocide, crimes of aggression, crimes against humanity or war crimes" can get up to three years in prison if their actions incite violence or hatred.

Police have never filed a criminal complaint related to this part of the code, the interior ministry said. "In Croatia, it has to be done in a way that incites violence or hatred towards a social group damaged by the crime," said Vesna Alaburic, a Zagreb-based lawyer. "It's a very subjective relation to a felony that is very difficult to prove."

In Germany, the justice ministry said 93 people were convicted of denying, condoning or relativising Nazi genocide crimes in 2015, the latest year statistics were available. Six of them got jail terms. In Austria last year, state attorneys received 75 complaints of denying, relativising, condoning or exculpating Nazi genocide or crimes against humanity, according to Austria's justice ministry. Four people went to prison for such crimes in 2016.

BIRN asked Croatia's 22 local state attorney's offices if they had ever received criminal complaints of genocide or Holocaust distortion or denial from individuals or groups. Of the 20 that answered, only three said they had.

In 2013, three rights organisations filed a joint criminal complaint to prosecutors in the central city of Kutina accusing Josip Miljak, former president of the far-right Croatian Pure Party of Rights, of breaking the law by downplaying the slaughter at Jasenovac. According to the complaint by the Center for Peace Studies, Documenta and the Civic Committee for Human Rights, Miljak disparaged research by the Jasenovac memorial centre that puts the death toll at the camp firmly at 83,000.

The complaint said he also wrote in an email to the former head of the memorial centre, Natasa Jovicic, that "your lies and hatred of everything that is Croatian will contribute to your end", which she and rights activists interpreted as a threat. The local attorney's office decided not to prosecute the criminal complaint on the grounds that there was no element of public incitement to Miljak's alleged diminishment of war crimes, according to a decision document seen by BIRN. The local attorney's office did prosecute a misdemeanour case related to Miljak's alleged threat. In 2015, local judge Robert Strniscak acquitted Miljak. During the trial, Strniscak made headlines himself by questioning whether 83,000 people really died at Jasenovac.

Meanwhile, in 2016, the Anti-Fascist League of Croatia filed a criminal complaint to the state attorney's office in Zagreb, accusing documentary maker Jakov Sedlar of "public incitement to violence and hatred". The League claimed that Sedlar used his film Jasenovac – The Truth, which disputes the official death toll of the memorial site, to target Croatia's national minorities, especially Serbs. "[Sedlar] concealed the scientifically established facts of the genocidal character of the NDH," the complaint says. Sedlar rejects the charge. In May, he received an award from the city of Zagreb for his work. "Some inquiries are still necessary to gather all the necessary relevant information and notices to make the decision [on whether to proceed with a prosecution]," the state attorney's office wrote in an email.

"Poisonous cocktail"

The third criminal complaint was filed in mid-October by three human rights organisations with prosecutors in the north-western city of Pula against a blogger described as a peddler of dangerous hate speech. "There is a concrete person behind all this, with a real name and surname," said Drazen Hoffmann, a researcher for rights group GONG and one of the authors of the complaint. "His online work is dedicated to anti-Semitism, affirmation of Nazi ideas and negation of the Holocaust." As of publication, it was unclear if prosecutors would take the case to court.
Surrounded by books and old newspapers on the top floor of a 19th-Century building overlooking Zagreb's main square, Hoffmann helps run an online platform for people to report, among other things, Holocaust denial and fascist graffiti. The 31-year-old political scientist said hate speech started picking up towards the end of 2013 when radical elements of the HDZ sensed political capital to be gained by fanning anti-Serb sentiment following fury over the installation of Cyrillic signs in the eastern city of Vukovar, which had been devastated by Serb forces in 1991.

"That was a poisonous cocktail, whose echoes and outbursts we can still see and hear in public," he said. "Historical revisionism is here with a mission to blacken any legacy of anti-fascism – and also to completely identify it with 'Serbishness', and that with crimes and aggression from the '90s war." The HDZ did not respond to emailed questions and a telephone call.

Croatia's EU accession in 2013 was also a milestone, Hoffmann said, noting that no systems were put in place to monitor the protection of human rights after accession. "It is quite true that after a country enters this community, after the conditioning is over, some standards do drop," he said. Asked about human rights monitoring in Croatia, European Commission spokesman Christian Wigand said the European Union was working with member states and social media companies to tackle illegal hate speech. "Hate speech and radical propaganda have no place in our societies – online or offline," he said.

Efraim Zuroff from the Simon Wiesenthal Center said the onus was on the government to set the tone from the top. "They finally have to admit the historical truth and tell people: 'These are the facts, you have to live with them, understand what happened and do whatever is possible to never repeat it again,'" he said.
First published on 24 November 2017 on Balkaninsight.com.

This text is protected by copyright: © Tamara Opacic. If you are interested in republication, please contact the editorial team.
Copyright information on pictures, graphics and videos are noted directly at the illustrations. Cover picture: A rabbi prays during a service in 2016 to remember victims of the Jadovno concentration camp in western Croatia. Photo: © Nenad Jovanovic. Photos in boxes: Poles mark the 71st anniversary of the Kielce pogrom. Photo: © Tamara Opacic; Aleksandar Nedic, great-nephew of Milan Nedic. Photo: © Tamara Opacic.